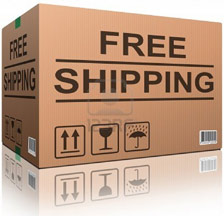 Why is shipping from China free? There are a lot of discussions going around online about Chinese free shipping. How can Chinese posting service be free? Are there any online stores in China that will send the goods for free and you will not have to pay any extra cash for the parcel? Why is shipping from China free?
If you've just started making purchases from China you will certainly be looking for the catch in the situation …
How could it happen? How can the product be delivered to me for free? Obviously it can't be true that the Chinese guy will come running to your house and will bring ordered goods from China right at the front of your door for free. It is also unlikely that pigeons will deliver ordered stuff for free too…
The answer is simple…
So why is shipping from China free and where is the catch in free shipping?
You will not have to pay any extra for your parcel! And it is hardly possible. The price you pay on the website is the final price! And most importantly, this can be explained …
It comes down to the fact that "free shipping" is already included in the price! This is logical. It can't just be that goods will teleport to your place.
When Chinese will invent a teleport then delivery will be really free! No doubts they would want to earn some extra cash on it too. In general, don't be naive and don't think that Chinese are so generous and parcels are really sent free of charge.
It should be noted that seller pays very small amount of money for the delivery of small items. Simply we don't feel the amount being paid. In addition, there are different ways to reduce the costs of delivery.
For example it is cheaper to send the goods to the seller by non tracked ordinary mail if you pay 2$ for back cover of your smartphone. And it appears to be a common practice in Aliexpress. You will not be provided by tracking number in this case. However you will need to carefully monitor the counter of days and in case of not receiving the goods on time, you should open the dispute!
Also it is possible to use private transport companies which carry consolidated goods to the Chinese outward city, thereby saving on lead time. It's worth to note that the cost of consolidated goods delivery in containers is very cheap. Some big Chinese online stores owe their own warehouses in Europe, United States or Russia.
Does Chinese government subsidize post office? -NO
A lot of people think that Chinese government subsidizes parcels to stimulate it's economy. This statement is completely wrong. Chinese government doesn't subsidize their post office. The thing is that the Universal Postal Union (UPU) establishes the rates for what it calls "terminal dues". Terminal dues are the fees which a country can charge another country for delivering incoming mail. The formula used to calculate terminal dues is quite complex, but they set the lower prices for so called "transitional" countries and actual costs are compensated by "developed" countries. Therefore it is more expensive to send goods from US to China than vise versa. China will likely be transitioned in 2016 into a category for more developed nations, who generally pay higher terminal dues and therefore the price of online Chinese goods can jump.
Anyway currently worldwide customers can enjoy Chinese free shipping (in other words very cheap shipping) and that is why shipping from China is free.